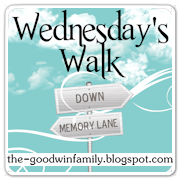 Have you wondered what happened to Travelling Food Fest 2010?
O.k., probably not…but I'll tell you anyway. It sort of fell by the wayside when my partner in crime…(er lunching) and I decided to try and eat more healthy and lose some weight. So, that was the end of Travelling Food Fest 2010.
I'm still on a mission to Get-it-together-eat-healthier-keep-priorities-in-order-cling-to-the-Lord, so I can't promise there will be a lot of Food Fest posts in 2011. But, today I'd like to share about a couple of fun and yummy restaurants I visited recently with friends. I love a good lunch with a good friend, good food, and good conversation! And the following lunches had all of the above!
First Stop – Granite City, with my friend Tracy…
And a whole lot of yum!
Delicious chicken salad on wonderful bread and waffle fries dipped in an exquisite sour cream sauce!
Tracy's meal of perfectly breaded fish and waffle fries. She loved it! Her hands were the most she wanted in the picture on this particular, not looking our best lunch.
As evidenced by this picture of me taken by accident while trying to work the camera on my cell. Lovely! =)
The service was friendly, attentive, and impeccable. Our very patient waiter handled our quirky struggle with indecision, our desire to have bread on the table as soon as possible (any restaurant that offers bread scores immediate points with these carb-lovin' girls!), our preference for booth seating, and the strange way we were taking photos of our food with my cell phone quite graciously. I was tickled that he labelled our to go containers. What a nice touch!
We give Granite City two thumbs up!
Next Stop – Tea Tree Asian Bistro with my friend Brooke
And…some more yummy goodness!
Me in front of the Tea Tree. I'm thinking that blue shirt must be my go-to lunch shirt, since I'm apparently wearing it in last year's pics, as well! Funny!
The ambiance at the Tea Tree was aesthetically beautiful and way cool. Brooke and I were the only people in the restaurant at first since it had just opened that day, which made it even more delightful. The chef looked up after I snapped this picture with my phone, (which makes a really loud click accompanied by a bright flash, making it hard to be inconspicuous).
Even the menu looked neat…I am loving this turquoise color lately!
The lettuce wraps were amazing. We could have probably made a meal of those!
I ordered almond chicken, and it was also delicious! I didn't get any pictures of Brooke, even though she was looking adorable.
I took a picture of this lovely piece from Kirklands…my new favorite, inexpensive decorating store. I would love to buy this sometime and decorate my front room in these colors. But, for now, my room is still bordered in 90′s floral pattern and carpeted burgundy. Someday…sigh.
And, the above picture is me…sporting my pre-St. Patrick's day Shamrocks and the crazy outfit pictured below. (Taken with my phone…sorry about the quality!) We are going to school late because James was not feeling great this morning, but he's feeling better now. Have a Wonderful Wednesday!
Yes…I am a dork! =)