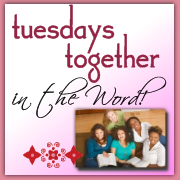 You've probably heard the saying, "Sometimes He calms the storm, sometimes He quiets the child" (or something like that). That's what I would like to discuss on this Tuesdays Together…God's goodness in the giving and the taking away, in the storms and in the calm. Many people praise God when they get the physical miracle, the tangible healing we can see with our eyes. But, God is still good when we don't get the answer we hoped for.
It's probably no surprise that God's grace is one of my favorite things. His grace and mercy are what whooed me to Him in the beginning. I was a sinner desperate for forgiveness, in need of a Savior…one who would love me always and never leave. It wasn't until after I walked with Him a little while that He began to teach me about the sufficiency of His amazing grace. It was through my own desperate need, through my grief and weakness that I learned that His grace was all I needed.
And lest I should be exalted above measure by the abundance of revelations, a thorn in the flesh was given to me, a messenger of Satan to buffet me, lest I be exalted above measure. Concerning this thing, I pleaded with the Lord three times that it might depart from me. And He said to me, "My grace is sufficient for you, for My strength is made perfect in weakness." ~ 2 Corinthians 12:7-9
I pleaded over and over again for the lives of my Faith and Grace, for the life of my Thomas, for the life of my sweet mother. And, he answered, "My grace is sufficient for you, for My strength is made perfect in weakness." I learned that healing comes in various forms. Sometimes the Lord touches directly, healing immediately in a way our eyes can see. Sometimes He heals through medicine or doctors. And sometimes, He heals both body and soul by taking His child home to heaven. All are healing, all are miracles, all are worthy reasons to give Him praise.
Do not think it is less of a miracle that He takes your loved one to heaven. Do not consider it an unanswered prayer. For although your pain and loss are great, your loved one's homecoming is celebrated and his healing is complete. Do you know that: Precious in the sight of the Lord is the death of His saints (Ps. 116:15)?
The other thing about His grace is that it often comes in the moment it is needed and not a second before. We have sufficient grace for the day…for the moment. He doesn't tell us about tomorrow. In fact, we are admonished not to "worry about tomorrow". He gives us grace that is sufficient to carry us through right now. It is always there…and it is always enough. That is what He promises…not a perfect life of ease. But a life filled with the perfect amount of grace.
I love the Lord, because He has heard
My voice and my supplications.
Because He has inclined His ear to me,
Therefore I will call upon Him as long as I live.
The pains of death surrounded me,
And the pangs of Sheol laid hold of me;
I found trouble and sorrow.
Then I called upon the name of the Lord:
"O Lord, I implore You, deliver my soul!"
Gracious is the Lord, and righteous;
Yes, our God is merciful.
The Lord preserves the simple;
I was brought low, and He saved me.
Return to your rest, O my soul,
For the Lord has dealt bountifully with you.
For You have delivered my soul from death,
My eyes from tears,
And my feet from falling.
I will walk before the Lord
In the land of the living.
~ Psalm 116: 1-9