YOU ARE INVITED….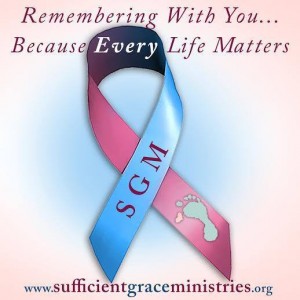 SGM Day of Remembrance and Hope 2015
October 10, 2015
9:00am to Noon
Deshler Elementary School
221 E. Maple St.
Deshler, Ohio 43516
REGISTRATION FORM BELOW…please register to include your baby's name whether attending in person or in spirit.
Information about registering whether you are attending in person or from afar to have a candle lit in your baby's memory as well as how to submit a photo is found in the last few paragraphs of this section.
October is pregnancy and infant loss awareness month. If you have lost a baby or child an any age, you're invited to join us for a day of Remembrance and Hope on Saturday, October 10, 2015.
We wanted the day to be filled with not just remembrance, but hope and celebration of the lives of our babies. So, we are planning some special activities that are family friendly as well as some activities that are quieter for parents/grandparents, etc.
You can still have your baby's name included and take part from a distance even if you are not local. Last year we read over 745 names and lit at least that many candles to honor babies around the world. Information about how you can register for the event…whether locally or from a distance can be found at the bottom of this information.
Itinerary
8:45 check-in
9am to 10am Booth activities
in the cafeteria
There will be a special photo booth. You're encouraged to bring a memorial item, Comfort Bear, etc…something that represents your baby to take a family picture, compliments of SGM.
There will be a cupcake decorating booth to create a cupcake in celebration of your baby.
A Flying Wish Paper booth where you can write a letter, wish, or prayer on paper sent up to heaven.
A Comfort Bear Stuffing Booth
And, a card-making booth to write a special note to go in a Dreams of You package for another family walking through loss.
10-10:15
Balloon Release
(We will be using biodegradeable balloons without strings to be environmentally friendly)
10:20 – Noon
Children will join SGM Support Companion, Emily Smiddy for a movie, story, and activities while adults will go to the auditorium for the duration of the service
We ask that parents not bring children to the auditorium for this portion of the festivities.
10:20- Noon
In the auditorium we will listen to a speaker, light candles for remembrance, watch a special slideshow honoring all the babies submitted with pictures of families with Comfort Bears, pictures and names of babies, etc.
This year we will also have a special HOPE CIRCLE where families will have an opportunity to share their stories and talk together.
JOIN IN FROM ANYWHERE!!
This is going to be such a special day, and we would love to have you join us in person if you're able. If you cannot make it in person, you can still join in from afar. You can email a picture of your family with your Comfort Bear or another memorial item, or a picture of your baby to be included in our slideshow to: sufficientgraceministries@gmail.com.
You can also fill out the registration form below to have your baby's name included on the slideshow and to have a candle lit in his/her memory. We will not be reading all the names this year, but we will include them on the candles and they will appear on the slideshow.
Join the Facebook Event Page for updates and to view and post photos!
Register on the form below: