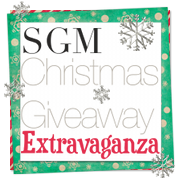 Welcome to the SGM Christmas Giveaway Extravaganza 2013! Today, we are giving away something beautiful for any mother (or a dad who wants to bless a mom) who is missing either her baby or her own mom this Christmas. Christmas and the surrounding holidays are such a special time to remember that Jesus came to save us. And, the gift of that cannot be taken away…not even by grief, death, and pain. Because He came, there is hope and the promise of a forever reunion. Many hearts are missing someone this Christmas. I am missing my sweet babies and my mother.
My mom loved to give at Christmas, and I'm so grateful that through SGM, I can give some gifts to bless some of the mothers with aching hearts this Christmas. That's what the SGM Christmas Giveaway Extravaganza is all about! Some light hearted joy in the midst of the missing. And, remembering together, during this sacred season. Five days of giveaways, beginning right now and lasting until Friday December 6, when all the winners will be announced by midnight.
Because, you are still a beautiful mother. And, your baby is always worth remembering.
Before I reveal today's gorgeous gifts, there is also a special ornament giveaway offer going on today only on the SGM Facebook page. Five moms will be chosen to receive an ornament to be placed on the SGM Tree at tonight's ceremony, with their baby's name on it, without having to pay the $5 donation. If you don't win, or if you would just like to help support SGM, you may donate $5  using the donate button on this page (plus $2 shipping if you would like the ornament shipped to you after Christmas) with directions about your ornament choice. Also, for any locals, tonight our Walking With You support group will be meeting at SGM at 7pm to enjoy some dessert treats and add the names to the ornaments and hang them on the tree. Together is always better than alone. So, we would love to see you there! No RSVP required. Just show up!! You can find out more information on our SGM/WWY Remembering Together at Christmas Event Page.
And now…here are today's goodies, some beautiful jewelry from Hallmark. Hallmark just gets it, you know. I'm not going to lie, I've been watching some Hallmark movies this Christmas season. I like the corny predictability and happy endings. It brings some peace to my tattered heart. Movies can be a little vacation from the heaviness of grief. Of course, they are no cure, and true comfort comes from sitting in the lap of our heavenly Father for awhile. But, every once in awhile, a little movie-watching is a nice gift.
Ok…now where was I? Oh…that's right, the giveaway Here you go, mamas and daughters:
1. First, a Celebrate Life…One Moment at a Time Charm bracelet with an I Love U Teddy Bear Charm. Sweetness.
2. Next, this sleek bracelet with the precious saying: A mother's love is the first gift we know, one we never outgrow. Oh, how true that is!
3. Because, whether your baby or child is in heaven or on earth, you are still a mother!
4. In the hardest of times, just like the famous "Footprints" poem says, when we see just one set of footprints…when we don't feel God…when we think we're alone, it was then, He carried us. He carries us still.
Even to your old age, I am He, And even to gray hairs I will carry you! I have made, and I will bear; Even I will carry, and will deliver you. ~ Isaiah 46:4

5. Another Footprints necklace. These sweet baby feet represent the footprints left on a mother's heart. Always.

6. And, finally, this sweet heart necklace. I love the saying: We hold every moment, every memory in our hearts. Yes, we do. This precious heart is filled with tiny pink crystals to signify the sweet memories we hold in our hearts.
To enter, leave a comment on this post saying which numbers you would like to be entered for, and a memory about who you're missing this Christmas ~ your sweet baby, your mom, or someone you would like to give this item to as a gift to bless a grieving heart. You can enter for more than one item.
Additional entries (Please leave a separate comment for each one!):
Share this post link on Facebook, Twitter, Blog, etc.
Share the Remembering at Christmas Event Page on Facebook, Twitter, Blog, etc.
For an extra 5 entries, donate toward an ornament to add to the SGM tree (You will also get to keep the ornament after Christmas! Details here.)
Spread the word and enjoy! Sending prayers for a peace-filled and gentle season for you and yours. Tune in tomorrow when we share some special ornaments for those missing someone at Christmas.