I'm so excited! Today kicks off the first day of the SGM Christmas Giveaway Extravaganza 2011!!! We will be giving away some very special gifts all week, so keep stopping back to see what we will be offering each day! You can help spread the word by sharing this sweet button (created by the lovely and talented Franchesca) from the sidebar: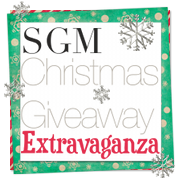 Christmas is such a special time to reflect on the gift of our Savior and the love we share with our families. But, for those missing a loved one, Christmas can be a difficult time. My mother loved Christmas,  and every year…whether life was difficult or not…she relished the joy of Christmas and giving to those she loved. So, the SGM Christmas Giveaway Extravaganza is an effort to find a little light-hearted joy and celebration in the midst of all the heavy. We want to bless some hurting hearts…and some happy hearts…and whoever we can bless with a bit of fun.
And, now for the fun part. Each day, we will post some items to be given away. Some will be memorial items to honor the lives of those we love who are celebrating Christmas in heaven. A few will just be fun stuff that I wanted to share.
Today's items are several choices of beautiful ornaments, including a new design from My Forever Child!
#1. This beautiful ornament from My Forever Child has the perfect quote in memory of a child who has gone home to heaven. "So softly you tiptoed into our world. And what an imprint you left upon our hearts" I love it soooo much! So much that SGM purchased several. We will be giving away 2 on this post!! The back can be engraved with a name and or date or other message to personalize.
#2. These lovely hand-painted ornaments are made by Deanna from Payton's Precious Memories. Deanna generously donated an ornament to be given away. She will personalize the ornament and has a few styles to choose from on her site. We are giving away 1 ornament from Payton's Precious Memories on this post.
#3. This Hallmark ornament is part of a beautiful series of ornaments created in memory of loved ones. "Always remembered. Always in our hearts." Another perfect message. We are giving away one Always Remembered Hallmark ornament!
#4. This ornament, also from Hallmark, comes with a poem that I absolutely love. The inscription on the ornament is: I love you all dearly, Now don't shed a tear, I'm spending my Christmas with Jesus this year. I have this one on my tree in memory of my mother. We are giving away one Merry Christmas from Heaven ornament!
* To enter the giveaway, you must leave a comment on this post. The comment must list the ornaments you wish to be entered for. If you want to enter for all, simply say all.  Otherwise, please list the ornaments you are interested in winning using the number listed by each description. For instance, if you want to enter for the My Forever Child ornament, you would put 1.  You can enter for as many as you wish.
* For an extra entry, you may leave a separate comment sharing a special Christmas memory of someone you love that's in heaven. Or you can also share a way that you honor the memory of your baby or loved one at Christmas.
*For additional entries…
Share our SGM Christmas Giveaway Extravaganza Button on your blog. The code is below the button on our sidebar.
Post on your blog about the SGM Christmas Giveaway Extravaganza 2011
Share this post on facebook or twitter.
Like the Sufficient Grace Facebook page.
Followers of this blog page get an additional entry.
Please leave a separate comment for each entry to make it easier to tally. Also leave your additional comments in reply to your original comment, so that all your entries are linked together. 
Thanks so much for stopping by and have a beautiful and blessed Monday!!
Love to all…
*Giveaway sponsored by Sufficient Grace Ministries for Women and Families, Inc.