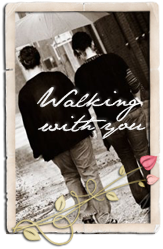 (You'll notice we have a new button linking directly to this page. I loved Abigail's button, and it was really hard for me to change. Danielle designed this one to match our new look. So thankful to both of them! Eventually, I may transfer all old posts to this page. For now, you can find links to previous Walking With You posts at the bottom of the sidebar to the right.)
To read previous posts on Walking With You, please click here: Walking With You.
If you are new to this site:
Walking With You is an outreach of Sufficient Grace Ministries, led by Kelly Gerken. We are a group of mothers who have lost a baby or child. We gather together from different places on our journey, each month to share our stories, to encourage, and pray for one another as we walk this path together. Our hope is that you will be comforted when you join us here…and maybe that we can offer some grace for the journey as we look to the Lord for comfort and strength.
This month for Walking With You, we are starting something new. We will be going through the Threads of Hope, Pieces of Joy Bible Study for the next nine weeks. Even if you have not joined us previously, I hope you will join us for this. All are welcome. My prayer is that it will bring hope and much-needed encouragement to hearts that are grieving.
*Because a lot of material will be covered in each study, you may share as much or as little as you wish about what speaks to you. You may answer every question on your post, or just choose one particular concept or scripture that spoke to you. Share as little or as much as you are able.
While many of us have shared the stories of our babies, and how we came to be walking this path in previous posts, some may be joining us for the first time. So, we'll take a moment to introduce ourselves and our glory babies, here. I am Kelly Gerken, wife to Tim, and mother to five children. Three of them dance in heaven's glory, while two of our sons are still perfecting their dance here with us. You can read more about our Faith, Grace, and Thomas here.
I like the introduction to this study…the example of the granddaughter expecting this beautiful quilt as a gift from the grandmother she dearly loved and trusted. What she received instead, was not what she expected. It wasn't a beautiful quilt at all, but what looked like a pile of rags, incomplete pieces of what she hoped for…a picture of broken dreams. How could her grandmother do this to her? The questions, the betrayal, the feeling of being deserted, forsaken, unloved…the bitterness, sorrow and pain swirl in her heart.
I think most of us can relate…
Lesson 2
1. Where do I go to find out the truth?
I asked the doctors countless questions…
Searched the internet for cures, procedures, information…
For the twins, I read my Twin book…for Thomas, I called doctors, nurses, friends…
But most of all…I prayed and devoured Scripture, knowing that nothing in this world would be able to deliver us from what we were facing. God alone was able to carry our babies and to carry us. I am not just saying that because it seems like the right answer. I wish I could say that I was strong, and that's why I knew where to turn…that my faith never wavered. Not true. It was desperation that drove me to His Word in the dark of night. My bible is still stained with the tears. I did know where to turn, but it wasn't my strength that brought me there. It was my weakness, my desperation, and the knowledge that God was our only hope.
Psalm 19:7-10 reminds us that His way is perfect…His testimony is sure..
His ways are "more to be desired than gold".
Beautiful truth…that's what that is.
II Timothy 3:16-17 reminds us that "all Scripture is given by inspiration of God…so that we may be complete, thoroughly equipped for every good work".
Every good work? Even this?
Yes…even this.
2. Where does life come from?
Love the verses in this section…
In Genesis 2:7, we find God breathing the breath of life into man.
In Psalm 139:13-16, we are reassured…that we were covered in our mother's womb, and so are our babies…that we are known by our Creator.
verse 16 is speaking to me especially tonight…
Your eyes saw my substance, being yet unformed.
and in Your book they are all written,
The days fashioned for me,
When as yet there were none of them.
Even before we existed, we were known by our Father. Before we walked this path, He knew we would be walking it. Before our babies existed, He knew every moment that they would live on this earth and in heaven. None of it happens without His knowledge.
Isaiah 46:3-4 has brought me comfort in the darkest valleys. Oh my…the tears that fall when I just hear those words.
He will carry me…
He will carry you…
He upholds us from birth…
He carries us from the womb…
He made us, He bears us…
He will carry and deliver us…
Even until old age…even until cancer steals life from us or someone we love, rare birth defects claim our children, even until our very last breath…He will carry us.
Why was my baby too weak to live?
I'm not sure the importance or relevance of this question. I understand the point of the lesson in John 9 is to say that it was not his parents' sin that caused the man's blindness. He was just born blind, but through His blindness and healing, God was glorified. There were some notes in the margin of my bible on the part where Jesus made the mud and saliva mixture and put it on the man's eyes to heal him. The words were from my Pastor and said, "sometimes we have to go through it first, before we can see". Sometimes, we have to take the steps before He shows us the way. Sometimes we have to walk through the fire before the healing rain.
Obviously this verse speaks to me:
My grace is sufficient for you, for my strength is made perfect in weakness.
~ II Corinth. 12:9
Sometimes, we are not spared the pain, sorrow, sickness, or death. Sometimes, we have to walk through it, trusting that His grace is sufficient to carry us.
4. Where is my child now?
Many encouraging scriptures here, reassuring that our children are in heaven. I'll just share one of my favorites.
…to be absent from the body and to be present with the Lord. ~ II Corinth. 5:8
As soon as we pass from this world to the next, we are with the Lord. No waiting in limbo. His promise is secure. If we are His, He brings us immediately to Him upon our death.
Also…love that David worshipped the Lord in the midst of his grief after the loss of his child. (II Samuel 12:15-23)
The quote at the bottom of this page touched my soul to the core, and I instantly wept.
But past faith and belief, I knew quite overwhelmingly that she herself- her soul- still was. ~ Sheldon VanAuken, A Severe Mercy
We talk about faith and belief. We say that we trust the Lord…that we know where we are going when we die. Our place in heaven is secure because Jesus died for us and now lives. We rest in that hope. But it is something all together different to actually rest in that hope…to actually believe when we don't see…to place our faith in Him when all we can physically feel is a canyon-sized void in our hearts and the emptiness of our arms. The word faith takes on a whole new meaning then.
5. Can I ever understand WHY?
Interesting question. It has been many years since I said goodbye to my Faith, Grace, and Thomas…a teenage lifetime in fact. I'm not really a "Why?" asking kind of girl when it comes to questioning God. I suppose I asked a couple times, if not consciously, somewhere deep in the pits of my grief.
I did ask why, wondering if it were something I had done…not physically to cause this…but some sin that had caused me to fall out of His favor. Was there some lesson we needed to learn? Did we not have enough faith? There are many lies Satan whispers in our ears in the darkness. His favorite for me, is to whisper that I have been forsaken by my Father…that I don't measure up spiritually or in any other way. While it is true that on my own I do not measure up, it is a blatant lie that I have been forsaken. I am covered in grace by the blood of Jesus, and my Father will never leave me or forsake me.
I don't think "Why's" are very fruitful, although I would never blame someone who is asking "Why". After all, if we never asked why…how would we ever really have faith. If it all just came easily, then it would be nothing for us to trust. If we could see all of the answers, it wouldn't be faith at all.
Faith is the substance of things hoped for, the evidence of things not seen. (Heb. 11:1) It's all about believing without seeing. He promises never to leave us…He never promised to tell us the answer to "why?".
Isaiah 55:8-9 reminds us that "His ways are higher than our ways and His thoughts are higher than our thoughts". It's not always for us to understand…just to trust in Him.
6. How can God help me deal with losing my baby?
The Holy Spirit was sent as our Helper and our Comforter. He has met me in the dark sea of grief over and over, reassuring with His living Word, squelching lies with His truth, and filling me with His grace, revealing the depth of His love and faithfulness. Not only did God comfort me with His Word and His presence through prayer, but he sent my friend Ginny to walk with me.
Great verses of truth shared in this section. This post is way too long for me to type them out. (And quite frankly, the words are blurring together as I type!)
Also love the verses shared from Romans talking about how "hope does not disappoint".
Thanks so much for participating in this study, even if it's just to read along with those who post. Please take the time to visit and encourage each person linked here. You may post on your own blog and link your post to the MckLinky below. If you do not have a blog or do not wish to post, you may also particpate in the discussion on our Facebook page.
It may take me a few days to get to those who link…need to focus on some other important ministry and family needs for the next few days. But, as soon as I'm able, I look forward to walking with each of you…
In His Grace,
Kelly

————————————————————————————-