Welcome to this week's Tuesdays Together in the Word. To join us, please click on the button below: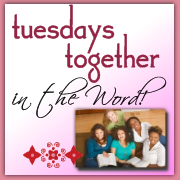 There is a lot that could be said this week, especially from the scriptures in Hebrews. These words on the subject of faith have carried me, encouraged me, strengthened and enlightened me many times on this journey of walking with Jesus. Especially during some of the darkest valleys, I have found myself in Hebrews. At the end of myself, on my face…wondering about this thing we call faith. I have written a little before about this and I'm going to be sharing again on Thursday's Walking With You some of what the Lord has shown me about faith through trials. So, I will try not to get too lengthy here. I do, however, wish to share just a little of the message of perseverance and hope the Lord is speaking to my heart this morning as I read through His word.
Therefore, brothers, since we have confidence to enter the Most Holy Place by the blood of Jesus, by a new and living way opened for us through the curtain, that is, His body, and since we have a great priest over the house of God, let us draw near to God with a sincere heart in full assurance of faith, having our hearts sprinkled to cleanse us from a guilty conscience and having our bodies washed with pure water. Let us hold unswervingly to the hope that we profess, for He who has promised is faithful. And let us consider how we may spur one another on toward love and good deeds. ~ Hebrews 10:19-25
Isn't that just the way to start our day…with these beautiful words of encouragement, strength and truth?! Whoo-hoo, those words encouraged my weary heart and soul this morning. I won't lie…I've been a little weary. It happens from time to time. And, not always with an easy-to-pin-point reason. But, it happens. Sometimes, even as the Lord's blessings pour in, weariness threatens. Usually the best cure for the strength-sapping discouragement that rears it's ugly head is to fix our eyes upon Jesus, but we will talk a little more about that next week.
As we look to Him this week, what do we find? We find hope…and not hope that is fleeting or dependent on circumstances. Not even a hope that depends on our meager faltering faith. But hope that is depends on our God, who is faithful. We are cleansed from our sin and unrighteousness by the sacrifice of Jesus…and we can rest securely in the promises of His Word. It is a full assurance we have in Him. A secure hope. Unwavering.
So, after we rest in the knowledge of our secure hope in Him, what are we strengthened to go and do? Encourage one another, of course. Take time to consider how we may encourage one anther, spurring each other on in love and good deeds. I love this. This is what we've been talking about. This is the beauty of the body of Christ, his people, serving in love and encouraging one another to continue serving in love. Beautiful goodness….I love this!!!!
I've been feeling a little poured out lately, but even as I write these words, I can feel Him ministering to my tired spirit, renewing and filling me up. As we read on in Hebrews 10, there are even more words encouraging us to persevere, to continue on with the path the Lord has for us. What do we do when we are feeling down-trodden and weary? Discouraged with wavering hope and meager faith?
Remember those earlier days after you received the light, when you stood your ground in a great contest in the face of suffering. ~ Hebrews 10:32
I don't even know if there is room in this post to write about the depth of meaning in this verse for me. The truth is that, while we would never ask for the the trials in our lives, they are the times when I can look back and see God working in and through them. I can see how closely I clung to Him, on the darkest of days. At the time, I certainly did not feel like some great example of faith. Of course, I didn't really understand what that looked like. In the moment, we are often just clinging to Him for survival, for comfort, for hope, for the strength to take our next breath. But, as we look back, the perspective is different. I would never hold myself up as some great example of faith or the poster-child for how to walk through sorrow. I know my weaknesses and doubt too well. I know all the flaws and fears I felt. But, as time goes by and life goes along without tragedy in all of our days, I have noticed that we don't always cling as tightly to Him once the danger has passed. Once, we are brought through our wilderness, we sometimes grow comfortable. We (or at least I) cling less tightly. So, when I look back at the day I felt most forsaken in my life, I know the brokenness. I know the weakness. I know my doubt and fear. I know my little faith. But, I also know that somehow…in the darkness of that day and heavy weight of that night, a strength arose that did not come from me. My part was small…I didn't know much. And I was no match for the accuser before me, but I knew the One to cry out to. And, I did. I came…crawling, desperate, on my face, drowning in tears. But I came. And opened His Word. And poured out my broken heart. Sometimes, I read the words I wrote on that fateful night when we had heard that our Thomas was incompatible with life. And I stand in awe of the faith displayed. I stand in awe of the God who put it there…the God who could draw me near when I felt forsaken. The God who could, with His still small voice, overpower the darkness and stand me firmly on the ground in the great test of suffering before me. Some days, I wonder where she went…that girl. Then, He stands me up again.
So do not throw away your confidence; it will be richly rewarded. You need to persevere so that when you have done the will of God, you will receive what He has promised. For in just a very little while,
"He who is coming will come and will not delay.
But my righteous one will live by faith.
And if he shrinks back, I will not be pleased with him."
But we are not one of those who shrink back and are destroyed, but of those who believe and are saved. ~ Hebrews 10:35-39
We must hold on to the confidence we have in Him. We must not shrink back.
O.K….I meant to talk about chapter 11…the Hall of Fame for Faith. But, this post is growing way too long (sorry). So, what I will say is this: As I read these words many years ago in the dark of that night when hopelessness threatened to swallow me, something struck me for the first time. I wanted to understand what faith was. I wanted to please God. As I studied those who were considered faithful, I noticed something…they weren't perfect. They had moments of weakness, sin, doubt, and fear. And, do you know what else? They didn't know the beginning from the end. They were walking as we are, with pieces of the puzzle. They had to rely on God, just like we do. We read their stories and we see God's hand. We see, just as when we look back at our own stories, how the Lord worked…His plans and purposes fulfilled. We see the promises granted. But, they didn't know that in the moment that they trusted Him. They had to believe in what they couldn't see. And to hope in what they were certain of. More on this next Tuesday. And also more on those who didn't get to see the promise…stay tuned…
On a completely different note, I can't leave without sharing this verse from Proverbs 14 (that really deserves it's own post!): The wise woman builds her house, but with her own hands the foolish one tears hers down. Praying that we would always speak and act in such a way that builds up our house (our family). Lord, strengthen me and remind me to be a wife and mother that builds up and not one who tears down.
————————————————————————————-
One more thing, and then I will leave you to ponder. Rachel at Once Upon a Miracle is still taking comments in order to support Sufficient Grace Ministries (she is generously giving $1 for every comment.) While we are grateful for her gift and we know that it will help many families through the efforts of this ministry…the bigger reason I hope you will take the time to visit her site is because I want you to read Gracie's story…to be blessed by the love of this beautiful family and the God who has carried them on this journey. And I want the world to know sweet Gracie. This family has stepped out in faith and "love and good deeds", and I want them to be encouraged…to reach their goal of 500…not just to benefit our ministry…but to encourage them as they have encouraged us. So, please take some time if you haven't already, and read their story, and pray for this family…and leave a comment to support them and Sufficient Grace. Thank you so much to all of you who have left a comment, and those who have supported us in so many ways. We love and appreciate you all very much.