To share your sweet memories, please visit Lynette by clicking below: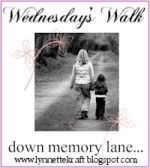 Giants are big and scary and most of all…really loud. Lately, I have been looking at the giants in my life…watching with dread as they approach, noticing their size, hearing their loud threats. Last year, I read Max Lucado's amazing book, Facing Your Giants. It was filled with truth, encouraging, empowering, inspiring biblical truth…just like everything Max Lucado writes. He is one of my favorite authors. His gift for painting word pictures that relate to the struggles we face in this life as we seek a closer walk with Jesus, is unmatched. Last year, his words encouraged me to remember not to look at the size of the giant before me, but to look instead to size of my God, who is able and mighty…and bigger than all the giants.
But, for a moment, my eyes shifted back to the size of the giant.
My son, James, like all of us, has been facing some giants of his own lately. On a particularly difficult day of battling the looming giants, we were both feeling a little defeated. We sat down to do our nightly bible devotion. James was all snuggled in his bed, and I opened his God's Mighty Warrior Devotional Bible (by Sheila Walsh…love her).
And, I was reminded about the size of my God.
Little David, refusing to cover himself in the king's armor, went out to confront the giant who had been threatening God's people. While bigger men than he cowered in fear and the giant basically laughed him off, David says to the giant (with complete confidence!),
"You come to me using a sword, a large spear and a small spear. But I come to you in the name of the Lord of heaven's armies. He's the God of the armies of Israel! You have spoken out against him."
And do you know what happens next? Do you know???
As the giant, Goliath, came near to attack him, David ran quickly to meet him.
You know the story…David kills the giant…God gets the glory.
And me…as I read that familiar story, I melted in the arms of my Savior and smiled through tears, at the truth and peace that washed over us. We talked about the "giants" in our lives…the things that seem big or scary or difficult. And the truth that no giant standing before us will ever be as big as the God who loves us. We prayed together, and I walked away with renewed confidence. David ran to meet the giant, armed with only a stone, a slingshot, and confidence in the Lord. He didn't cower or wait, watching in dread as the giant approached. He was prepared. He trusted in the Lord, His God…and he ran out to meet the giant. Bold courage. Bold faith. Bold victory. He kept his eyes fixed on the size of his God, which incidentally made the giant look pretty small. And he was a victorious warrior.
I love all the ways God uses to speak to our hearts. There is no where we could go, where He is not able (and willing) to meet us. He will find us, and lift us to the higher Rock. Not only did God whisper His truth to my heart that night, but He planted the seeds of His truth into the heart of my little warrior. Oh…He is good.