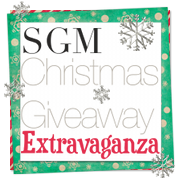 It's that time of year again. Time to remember together…and time for the SGM Christmas Giveaway Extravaganza 2014!!
Beginning on December 1, 2014, we will be hosting the SGM Christmas Giveaway Extravaganza 2014, a week of giveaways for those missing someone at Christmas. The holidays can trigger those memories and missing like no other time of the year. This is a little something we like to offer, to bring just a sliver of joy and remembrance to hurting hearts at Christmas…to let you know you aren't walking this path alone.
We will be hosting a very special Walking With You Christmas support group gathering on Monday, December 1, 2014 at 7pm for those who wish to join us. We will share some dessert, chat about our babies, and make/hang ornaments on the SGM tree. If you can't be there in person, we are offering an opportunity for those who want to help support SGM and add their baby's name/ornament to the SGM tree to donate $5. (We will mail ornaments to all who wish to have them mailed to them after Christmas for an additional $2 shipping). Last year, it was such a blessing to see our babies' names adorning the tree. To donate, use the button on this page. Please add your baby's name and information in the notes.

How do we remember our babies (Faith, Grace, and Thomas) who are in heaven?
Each year, we fill three shoeboxes with gifts for Operation Christmas Child, which we then donate to the pile of boxes collected by our church for their annual donation. We fill two little girl boxes in memory of Faith and Grace and one little boy box in memory of our Thomas. It is a small thing, but it blesses me to be able to buy some little gifts in their memory and give them to another child in hopes that it will bring some joy. It is something tangible we can do to remember them every year. When my boys were younger, they loved taking part in the gift-giving. It was a beautiful way to include them in remembering their sisters and brother, and help others.
This year, due to a full schedule of serving through SGM, we missed our church's deadline to donate shoeboxes, but we plan to do an Angel Tree donation instead.
A Christmas tree should tell a family's story. Each year, the memories come flooding back as we take out the ornaments and remember all the milestones our children have achieved, the sweet hand made ornaments adorned with school pictures, baby's first Christmas ornaments, Our first Christmas Together ornaments, and for those of us missing those we love, In Memory ornaments. They are a special way to include those who have gone home to heaven in our story. For they are very much a part of our hearts and our lives…and should be in the memories when we unwrap the ornaments each year and hang them on the tree that tells our family story. I shared a great deal about some of those special ornaments on our tree on this post. Here are a few more ornaments that have been added to our collection. Several of them came from some of you, my dear online friends and fellow mamas. They touched my heart, and are treasured among some of the most precious gifts that I have received.
These beautiful ornaments were a gift I received a few years ago from Jess:
And, this sweet ornament for my Thomas…


(We will be giving away some beautiful memorial ornaments on the upcoming SGM Christmas Giveaway 2014 beginning on December 1st.)
I also hang ornaments each year in memory of my sweet mother, Kathy, who went home to heaven four years ago. She adored Christmas, and she is so much a part of every Christmas memory for me. These Christmas giveaways are one thing I do to honor her memory. Even in difficult times, mom loved to make Christmas a fun celebration and she loved to give.
Other ideas of how to survive the holidays when missing your child or loved one at Christmas:
Give to a favorite charity in your child's name.
Make new traditions.
Slow down. Make time to soak in the season. Listen to Christmas music, sip hot cocoa, look at the lights. Breathe deeply.
Give grace to yourself, as the missing may be more intense.
Give memory packets or other comfort items to your local hospital in your child's memory.
Take part in a local memorial celebration. Some support groups, hospitals, and even funeral homes host gatherings for those who are remembering a loved one at Christmas.
Donate a special book in memory of your child to the local library.
Hang a stocking with your child's name on it, and fill it with special memories, messages from others, or random acts of kindness written on slips of paper.
Take care of yourself…and take breaks when needed. Watch a movie, go shopping, sit in the park, turn the music up, take a bubble bath. Whatever your mode of escape or self care. Indulge a little.
Don't forget to stop back on December 1, 2014 for five days of giveaways that will hopefully bless and encourage you this Christmas season.
There will be special ornaments, books, gifts, a copy of Return to Zero, doTerra essential oils, and a grand finale. Something for everyone missing a loved one of any age this holiday season.